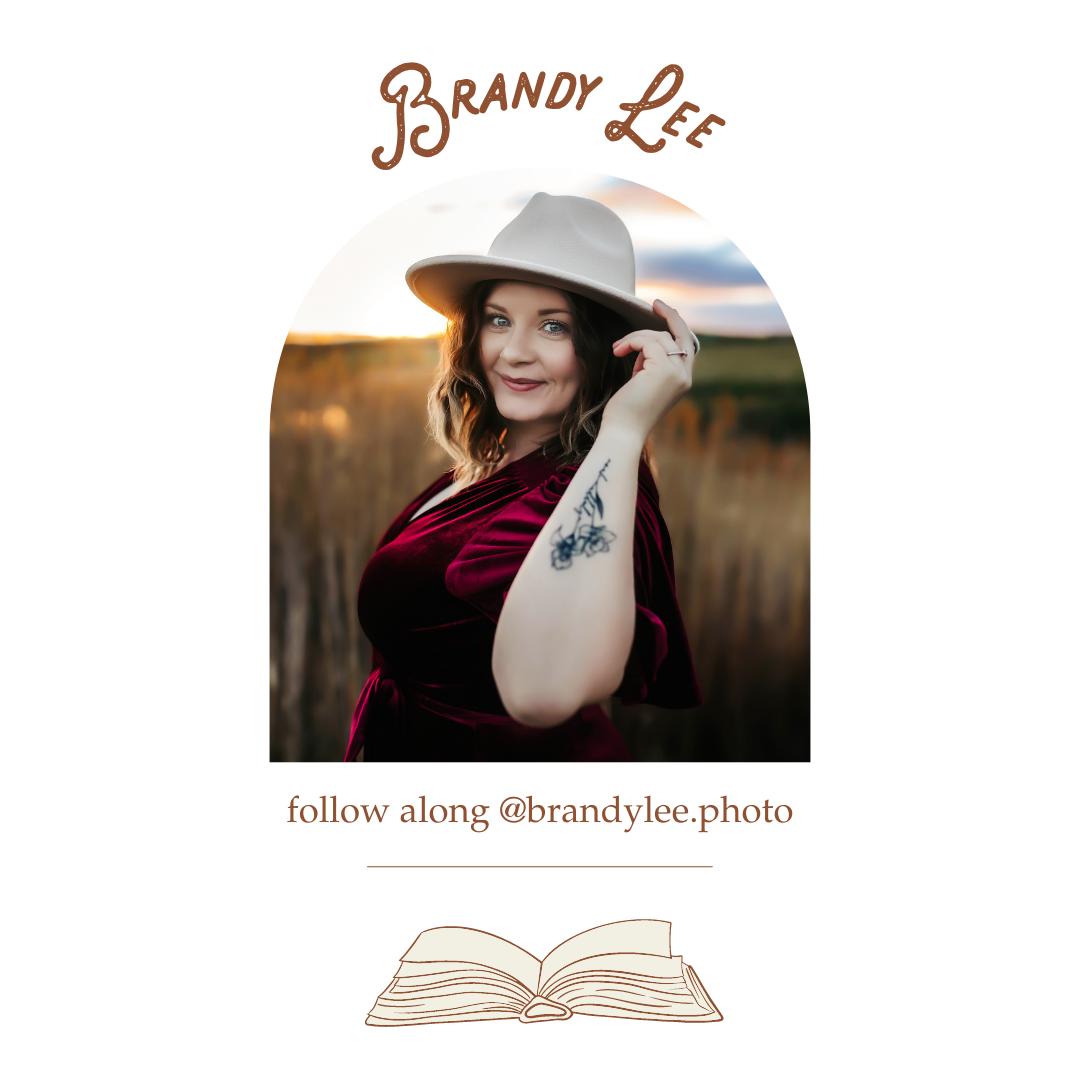 Hey Hey!
I am Brandy, mama of 2 born & raised in North Dakota! 

I have always had a love for photography, my mom got my first camera for me from a thrift store when i was 12. This is honestly the most meaningful gift she had ever gotten me. I grew up in a very unstable home and endured a lot of things no child ever should. I got pregnant at 16 and my love for capturing things just grew and grew. By the time i was 18, I had my second child and took a LONG time off of photography. Being a young mom, I was going through a lot of trials in my life so I put off photography for a very long time. Finally, many years later, I picked up a camera again and have not looked back since! 

Storytelling & Having Fun With Big Families
Course Info
I want to be completely truthful - at first, I was TERRIFIED of working with big families. I thought it was beyond intimidating. So much that I would have mini anxiety attacks and try to talk myself into canceling their sessions altogether, or even further NOT booking big families anymore. Then I thought long and hard about it and the self-doubt that consumed me as an artist. I thought about my extended family(mom, siblings grandparents, uncles/aunts, cousins) and how I love time with them, more than anything in the world. Large families deserve to have their life and love captured too, they too enjoy time with their family! I practiced and practiced until I got very comfortable taking on large groups and now I absolutely LOVE it! 
I want to help you do that so here is my perspective on big families: 
Big families are filled with lots of personalities - which brings something different and so meaningful to each photograph.
Big families usually have such unique stories and learning how to be comfortable enough to capture those stories is so impactful. 
Big families (sometimes) tend to have a different dynamic than families of 1 or 2 kids - it is usually pure chaos but jumping in & matching their energy will make your session much more enjoyable. Don't be scared to get in there and be goofy! 
Try to remember that every family who books you (no matter the size) trusts YOU to capture their love the way you see it - run with this and don't be too intimidated to try new things. Let your creative ideas flow and implement them in your session! At a session with lots of family members, there is so much variety you can try out!
My goal is to show you how to feel comfortable capturing big families. 
My goal is to teach you to have fun at your sessions & knock down any self-doubt in the process!
My goal is to help you become confident in your work and in your posing. 
Confidence does show at your sessions.

We all get stumped and have a brain freeze once in a while but if you keep practicing and pushing yourself to learn, you will become more & more confident at sessions and in your business overall! Investing in your education and in your work will make such a huge difference in not only your business but your life too!

Example Curriculum
Available in days

days after you enroll

WELCOME! So happy you are here!
Now, what are you waiting for - COME DIVE IN!!! 
Let me help guide you in that direction and be here for you along the journey. I am excited to help you grow in this industry and am here to root for you every step of the way!